---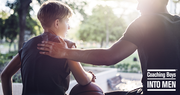 KSAL featured a Smoky Hill program--Coaching Boys Into Men--in a recent news article.
---
SHESC's Coaching Boys Into Men Program Makes the News
In partnership with the Domestic Violence Association of Central Kansas (DVACK) with support from the Salina Area United Way, SHESC's Noalee McDonald-Augustine presented a training session on Coaching Boys Into Men to area coaches at the recently opened Salina Fieldhouse on Monday, August 21st.
KSAL featured the program in a post on its web site. The complete article is available here. Thank you to KSAL and Karen Shade for helping spread the message about the important role that coaches play in preventing violence and creating a culture of respect. As fall sports seasons begin across the country, it is important to remember to play and coach with respect.