---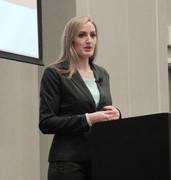 SHESC
Jenna Quinn shares her story with Kansas educators, law enforcement officers, social workers, and other professionals on January 24th.
---
150 Professionals Spend a Day with Jenna Quinn
On January 24th, Jenna Quinn and her mother Kellie spent a day with 150 professionals from across Kansas sharing their stories and raising awareness about child sexual abuse. The event was a joint project sponsored by Smoky Hill Education Service Center and CAPS--Child Advocacy and Parenting Services of Salina.
After the presentations by Jenna and Kellie, there were 4 break-out sessions led by Noalee McDonald-Augustine from SHESC, Courtney Train from the Domestic Violence Association of Central Kansas (DVACK), and Vicki Price from CAPS. Topics for these sessions included human trafficking, good touch/bad touch for young students, healthy relationships, and gender identity issues.
KSAL's story about the event can be read here.
A copy of Jenna's PowerPoint can be downloaded here.
---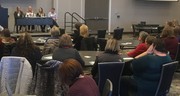 SHESC
Jenna Quinn answers audience questions during the panel discussion following Smoky Hill's conference on child sexual abuse on January 24th.
---