---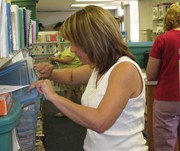 SHESC Photo
The SHESC Resource Library has a variety of materials that teachers can check out to use in their classes.
---
Smoky Hill ESC Resource Library
Search & see what we have available in the library…
If you would like some search tips click here.
Library items are available for checkout by employees of our member school districts.
Most items are checked out for a period of four weeks. New items are available for a period of two weeks.
Our driver's deliver library items to most of our school buildings once a week. To find out what day we stop at your school click here. Delivery Schedule
If you would like to put items on hold or reserve them online you will need a patron barcode and password. Click here to register.
If you would like assistance finding items you may email Susan Phillips at library@smokyhill.org or call her at 785-825-9185.
---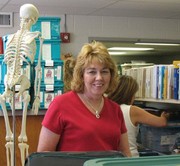 SHESC Photo
From books and videos to puppets and science kits, there are resources to fit teachers' needs in the SHESC Resource Library.
---
Feel free to stop by our Salina office at 605 East Crawford and see what we have available.