---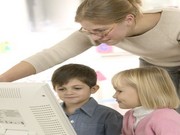 CITW helps teachers learn research-based instructional strategies that improve student achievement.
---
Classroom Instruction That Works
"The only way to improve outcomes is to improve instruction."
--Michael Barber & Mona Mourshed, How the World's Best-Performing
Schools Come Out on Top
Educators today face many challenges as they prepare students for an increasingly competitive, global society. To meet these challenges, it is necessary to go back to the models of learning and capitalize on the teaching strategies that best meet the learning needs of today's students.
McREL's Classroom Instruction That Works (CITW) program answers the questions about what high quality instruction looks like by summarizing 40 years of research on instruction. CITW teaches participants which instructional strategies to use and why, when, and how to use them.
Smoky Hill ESC has staff members who are McREL certified trainers for Classroom Instruction That Works. Contact Smoky Hill today to discuss how implementation of the research-based instructional strategies of CITW can improve the outcomes in your schools by improving instruction.

Chris Moddelmog cmoddelmog@smokyhill.org 785-825-9185
Let Smoky Hill help you with what matters most: improving learning and teaching.