---
SHESC Photo
Stephanie Bird presents at her Extreme Makeover: ELL Edition workshop that was held at Smoky Hill as part of the Title III consortium.
---
Title III Consortium/ELL
Smoky Hill ESC provides a wide range of services to assist schools with educating English Language Learners. Our main focus is professional development and technical assistance. For professional development we offer opportunities onsite in your own school or at the service center. As with our professional development, our technical assistance is tailored to meet your needs such as consulting with teachers, support for ELL assessments, or assistance with selection of curriculum materials.
The SHESC Library has many resources available for checkout including books to assist teachers with instruction as well as some books for students in Spanish. We also have Culturegrams for some of the countries. These assist students and teachers in understanding the culture of the ELL's native country. We are continuing to add resources to assist teachers with their ELLs. These are all available for checkout.
Additionally, SHESC has a Title III Consortium which districts can join, and that membership enables us to offer reduced rates for services.
For more information about these services, contact Darla Smith at (785)825-9185 or dsmith@smokyhill.org.
---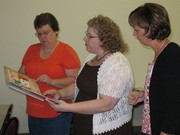 SHESC Photo
Stephanie Bird reviews a children's book with two teachers.
---