---

Students can get 24/7 access to thousands of books on any device with myON Reader.
---
myON Reader Licenses Available
Learn how to get 24/7 access to thousands of books on any device for the price of one regular library book with myON Reader licenses available through Smoky Hill!
WHAT IS myON READER?
myON is a personalized literacy program that provides access to the largest integrated collection of digital books with reading supports, customized to a student's interest and reading abilities. Created to enhance the reading experience, myON develops an individual profile for each student based on his or her interests and reading ability, and generates a recommended book list.

HOW DOES myON READER WORK?
myON enables anytime, anywhere access to digital books that students can read, rate, review, and share with classmates through safe social networking. Through embedded assessments – end of book quizzes and benchmark quizzes – myON allows educators, students, and families to monitor, track and measure student reading growth. myON is designed for PreK-8 students but is being used successfully in high schools with students reading below level.

HOW DOES myON DECIDE WHAT BOOKS TO INCLUDE?
The myON collection is developed and expanded based on factors that help personalize recommended reading for every student. The collection is balanced to represent 70% of titles in non-fiction and 30% in fiction with at least 10% of those titles being Spanish. Books are selected from a pool of content made available through Capstone Publishers, with preference given to award-winning, highly rated, reviewed titles, best-sellers, and books of more recent copyright.

WHAT ARE THE BENEFITS FOR STUDENTS?
Students have the opportunity to choose what they want to read, in a digital environment in which they are comfortable motivating them to become better and more confident readers. Reading supports such as naturally recorded audio, and highlighting at the word and sentence level, are available to allow students to explore new genres and become familiar with undiscovered topics. Reading books from their recommended list provides practice opportunities for students to read for longer periods or time with more challenging types of text. Student develop better attitudes and behaviors around reading.
The award-winning myON personalized literacy environment includes:
For Administrators:
Monitor and measure reading growth by group, grade or building
Determine prescriptive measures for special groups
Provide online learning in the library, at school and home
For Teachers:
Create individual reading plans and review progress
Automates reading placement
Leveled titles across the curriculum
For Librarians:
Increases circulation from trusted publishers
Online concurrent access for library, class and home
Provides tools to improve 21st Century learning skills
For Students:
Choose books based on interest and ability
Multimedia scaffolds built-in
Monitors progress
For Parents:
Encourages reading at home
Includes parents as integral reading partners
Supports school efforts

For more information contact Chris Moddelmog at 785-825-9185.

Click here for additional myON information.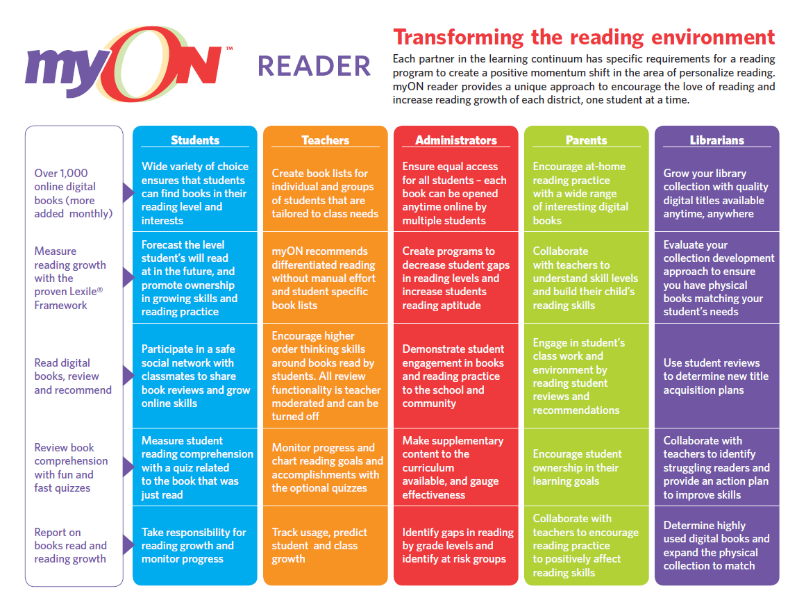 Click here for a myON video