2018 CTE Annual February Conference
CTE Learning That Works for Kansas
The Career & Technical Education
Annual February Conference
Save the dates for 2019
Pre-conference February 11, 2019
Main Conference February 12-13, 2019

Hosted by:
Kansas Association of Education Service Agencies (KAESA)
ESSDACK, Greenbush, Keystone, Northwest, ORION, Smoky Hill and Southwest Plains
Kansas Board of Regents and affiliated colleges and universities
Sponsored by: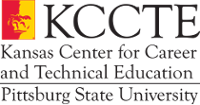 2018 Conference Resources:
Keynote speaker: Brooks Harper
Room Monitors 2018 Link
College Credit: Those attending the full conference may earn 1.0 credit hour through Pittsburg State University. Enrollment form and payment may be completed on-site at at the conference registration table. Cost is $105.00 if paying by check. A 2.75% convenience fee will be added if paying by credit card. Please make checks payable to "Greenbush"; we can also accept Visa, Mastercard and Discover.
Follow us on Twitter: #KSFebCTE
Location:
Manhattan Conference Center-Hilton Garden Inn
410 South 3rd Street, Manhattan, Ks 66502 785.532.9116
Cost:
Early bird registration is $160 for the full conference.
Registrations received after January 19th, 2018 will be charged $200.
Single day rate is $100. After January 19th single day is $150.
Breakfast and Lunch for February 6th and 7th are included in the registration fee.
Hotel Accommodations:
Hilton Garden Inn or by calling the hotel directly at 785.532.9116
Please use the special group code, CTE18 , when booking your room online or mention the "CTE Annual Conference" if booking
via phone. Reservations must be made by January 20, 2018 to receive the discounted group rate of $112/night plus tax or until
the conference block is full.
Fairfield Inn or phone 785.539.2400
Rate is $104/ night plus tax. Reservation cut off date for the conference is January 4, 2018. Group code CTER.
The Fairfield Inn is directly adjacent (north) of the Hilton Garden Inn.
Candlewood Suites 210 Blue Earth Place and Fort Riley Boulevard, Manhattan, KS 66502 Phone: (785) 320-7995
Candlewood Suites is directly east of the Manhattan Conference Center
Holiday Inn Express 115 Blue Earth Place, 1-888-Holiday
Holiday Inn Express is directly east of the Manhattan Conference Center
Other Manhattan area lodging: http://www.manhattancvb.org
Past Presentations:
Contact: info
Marie Hall Conference Manager/Presentation Proposal Inquiries
Office: 785.862.7840
Mobile:785.249.8772
Email: marie.hall@greenbush.org
Diane Mann Payment/Registration Inquires
Please make checks/purchase orders payable to: Kansas Association of Education Service Agencies (KAESA)
Mail to: 605 East Crawford, Salina, KS 67401
Tax ID: #48-1189820
Office: 785.825.9185
Fax: 785.825.9195
Email: dmann@smokyhill.org
Martha Maxwell Exhibitors
Office: 316.440.8880
Cell: 316.640.7133
Email: mmaxwell@orioneducation.org
Joe Ryan Special Accommodations/Individuals with Disabilities
Office: 785.825.9185
Cell: 785.819.2050
Email: jryan@smokyhill.org