---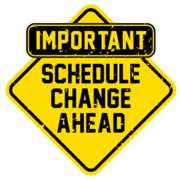 The dates of the Concordia and Hays SAC meetings have changed!
---
UPDATE on JANUARY SAC MEETINGS
As most of you know there are a variety of activities in Topeka the week of January 14th which conflict with the dates for the SHESC January SAC meetings.
Due to the conflicts, we have set the following dates for the January SAC meetings:
WEDNESDAY, January 16th in Salina as previously planned. (We know this does not work for several of you, but there was not a better alternate date.)
THURSDAY, January 24th in Hays (changed from January 17th)
THURSDAY, January 31st in Concordia (changed from January 15th)
The Post Rock meeting will remain unchanged on Friday, January 18th.
If you have any questions, please let us know. We hope to see everyone this month!