2023 State Schools of Character Recognition--Virtual Ceremony
Kansas State Schools of Character
Criteria for selection are based on Character.org's ​11 Principles of Character, which include providing students with opportunities for moral action, fostering shared leadership, and engaging families and communities as partners in the character-building effort.
In Schools of Character, adults embrace their critical role as models. Teachers work together as professionals — along with parents and community members as partners — to positively shape the social, emotional, and character development of the young people entrusted to them each day. Students in these schools feel safe, respected, and connected to those around them, allowing them to thrive academically and socially and be motivated to give back to their communities.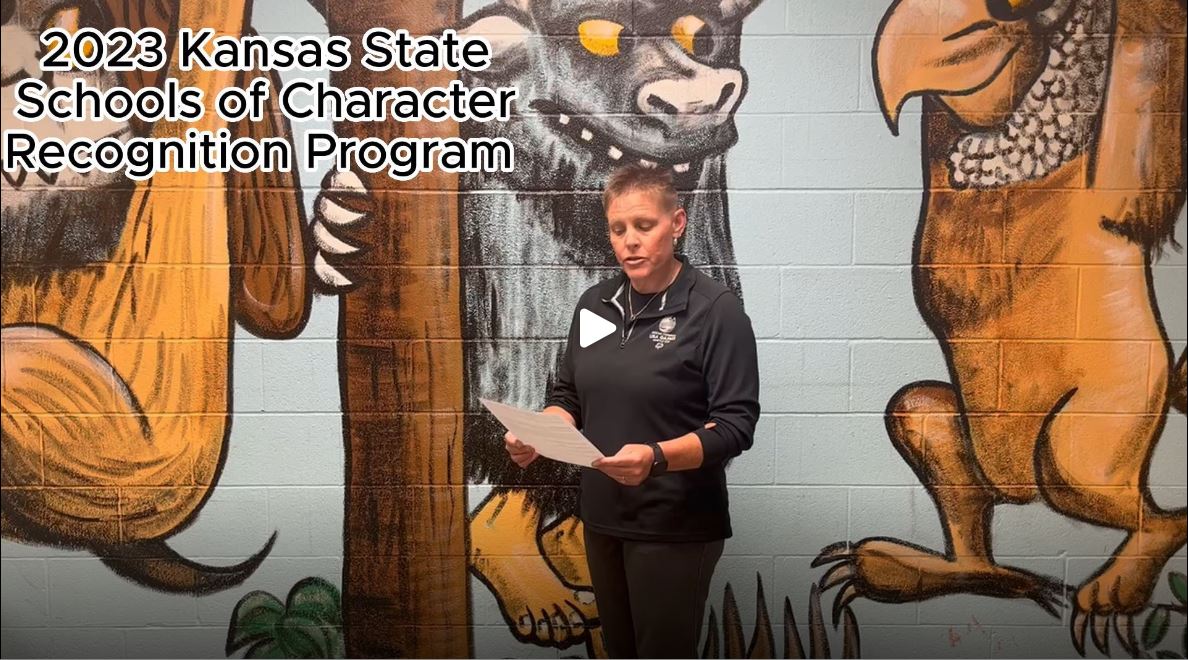 2023 State Schools of Character.mp4
Kansas State School of Character & National School of Character
Beloit Jr./Sr. High School – USD 273 – Beloit, KS
Honorable Mention School of Character
Remington Elementary School – USD 206 – Potwin, KS
Emerging School of Character
Bickerdyke Elementary School – USD 407 – Russell, KS
Kansas State School of Character & National School of Character
Beloit Jr./Sr. High School – USD 273 – Beloit, KS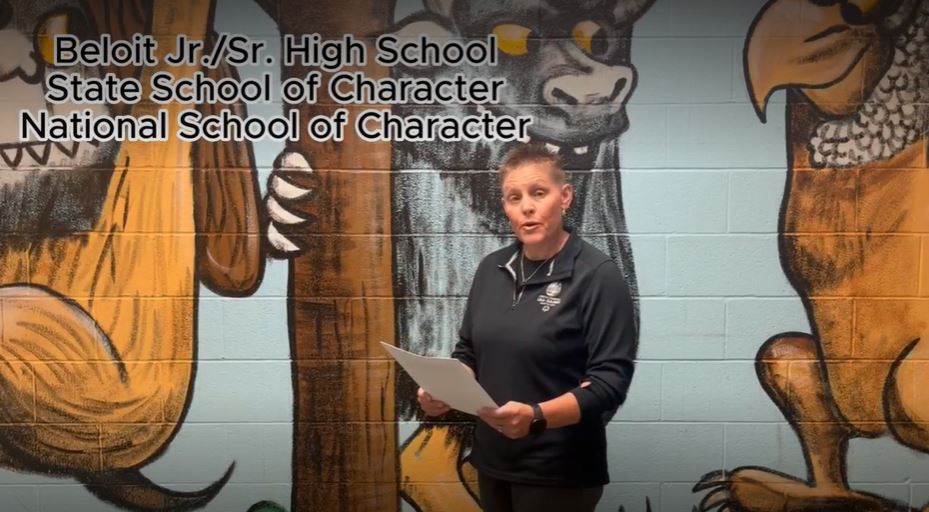 Beloit Jr. Sr. High School.mp4
"Show me the way to yes. How are we going to make this happen for our students?", is the mindset at Beloit Jr./Sr. High School. Beloit started their character journey during the 2013-2014 school year and hasn't looked back. In 2018 they were recognized as a State School of Character and National School of Character. Since then they have continued to build on their strong social, emotional, and character development framework and culture.
The core values, PRIDE – Positive, Responsible, Integrity, Determination, and Excellence, are infused throughout every aspect of the school - physical structure, policies, academics, athletics, and behavior supports. It is easy to see that it is the 'plate', the culture, the foundation when students affectionally say "You have us drinking the orange and black Kool-Aid."
Their PRIDE time, advisory period, is utilized as the platform from which all things function at BJSHS. Because of its importance, they increased the meeting time from 100 to 164 minutes and have it scheduled on Mondays and Fridays at the beginning and end of each day. So they can bookend their week. PRIDES also meet at the end of the day on Tuesday, Wednesday, and Thursday. Advisors and members stay with their group for 6 years to build strong relationships and mentoring opportunities. They have also awarded credit and instituted a no-passing rule during PRIDE. Habits of the Week, Character Trait of the Month, SECD skill lessons, service learning, grade checks, and book studies are all components of PRIDE time.
BJSHS works extremely hard to foster a caring and responsive community within the Trojan Family. Phone Free Lunch, peer mentoring, and the Student Advisory team provide opportunities to build student-to-student relationships, school connections, and student voice. The implementation of new courses based on student suggestions, the addition of a JAG-K program, numerous project-based learning projects, student-run businesses, internships, facility redesign initiatives, goal setting-assessment-evaluation, student-led conferences, and restorative practices not only provide real-life experiences, but meaningful, personal, and challenging curriculum. Over the past five years, 30 new courses have been added. Six facility redesign initiative have been completed in the last 4 years, including: Library Redesign, Coffee Shop, Greenhouse, STEM lab, JAG classroom, and 2 outdoor learning areas. An Ag Shop expansion is next.
The 10 to 1 teacher/student advisor ratio emphasizes the importance of teacher-to-student relationships. Having students help with voting, serve on local boards, determine community need for PRIDE time projects, and identify monthly one small thing to positively impact the school creates opportunities for impactful moral action, service learning, community involvement, and school leadership.
The school's character education focus is not just administrative lead. Staff are solidly on board and are active on many different levels. The Character Education Committee was expanded to 10 members and meets in the summer to plan for the upcoming year. Character Education is on every staff agenda and is the focus during their in-service late starts.
The journey to becoming a State/National School of Character is a long one. Beloit Jr./Sr. High School has continued to put in the hard work, make adjustments, and use feedback for improvement. It is because of their commitment, passion, and dedication that they are back-to-back Kansas State Schools of Character and back-to-back National Schools of Character.
Honorable Mention School of Character
Remington Elementary School – USD 206 – Potwin, KS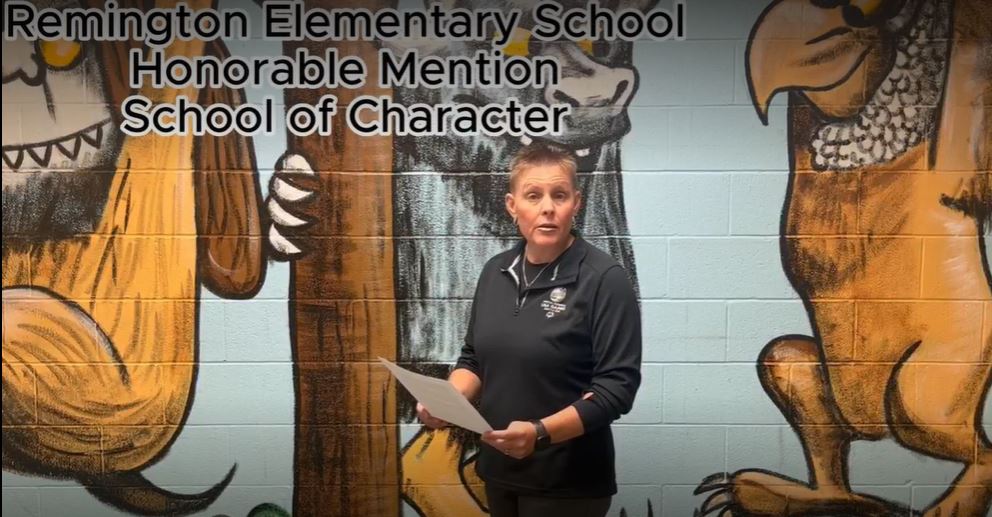 Remington Elementary School.mp4
Treat Others Right, Make Smart Decisions, and Maximize Your Potential are the Remington Elementary Big 3 Core Values. Since the adoption of the Core Essentials curriculum materials in the spring of 2019, character education has been a focus at Remington and the Big 3 Core Values have created the foundation of their approach. The Big 3 are visible throughout the school with the display of banners and posters, they are part of morning announcements, are addressed in the handbook, and are visible on social media pages, so not only do students and staff know them but parents and community members as well.
An emphasis has been placed on student voice and leadership. Every third year, the 3rd Graders are asked to select the definitions of each core value. These "performance goals" are used to explain the Big 3 and to make them more concrete. Saddle Up is the leadership group for 4th grade and they have two main responsibilities: host a monthly assembly to recognize students for practicing good character and volunteer on a service team. The service teams include: Mentoring where students are paired with PreK through 1st grade students; Welcome which greets students once a week as they enter the classroom; School Service does various service acts around the building like hanging up posters, sharpening pencils, watering plants, picking up trash, and delivering items to teachers; Magnet Makers makes the locker magnets for the students who earn the Horseshoe award; and Digital who takes pictures and creates videos and slide shows. Each team receives specific training and students have a choice as to which team they will serve.
Remington has had an intentional focus on building relationships and integrating character throughout the building and classroom. There is weekly character instruction by the counselor, classroom Monday morning meetings or FAB Fires, cross-grade level FAB family meetings, Boot Camp for teaching behaviors, and the teachers utilize the Big 3 language with discipline. Once a month, the whole building does a FAB activity which focuses on fun and teambuilding. The Lunch Bunch is a rotation of 4th through 6th graders who eat lunch with the counselor to visit about things that are important to them and to strengthen relationships. The 3rd and 4th-grade students engage in a process of self-assessment of success skills and goal writing. And family and community members are welcomed into the building approximately once a month with an event or activity. These events have included the Grandparents Day project, Thanksgiving play, Wax Museum, Poetry Café, Market Day, Career Connection Interview, Mystery Night, and Art and Bingo Night.
Remington hired a full-time counselor and created a volunteer liaison position. Both of these have allowed the expansion of programs, activities, events, and opportunities for student involvement. Staff have been trained in the 11 Principles of Character Education and training has also included bus drivers and lunchroom staff providing a shared vision and opportunities for shared leadership.
Emerging School of Character
Bickerdyke Elementary School – USD 407 – Russell, KS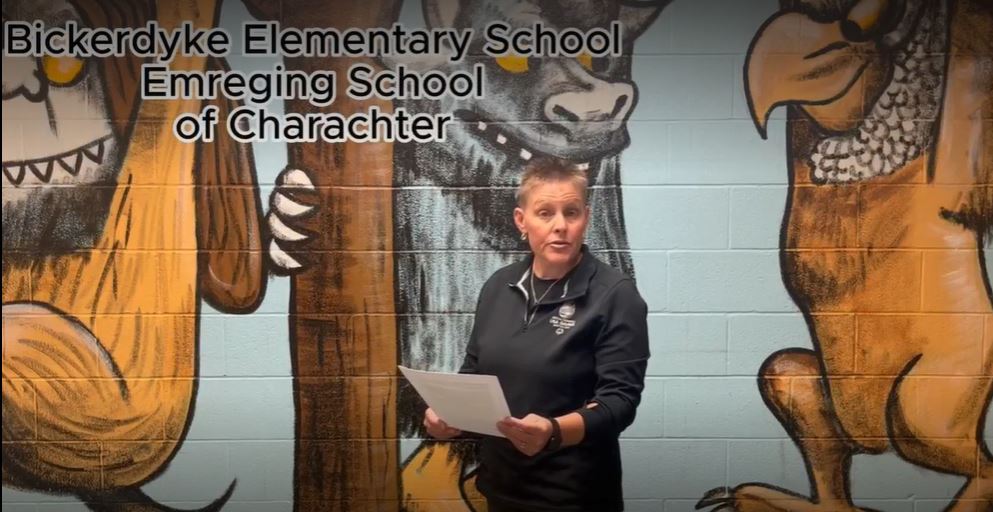 Bickerdyke Elementary School.mp4
A never-ending work in progress is how Principal Mr. Dempewolf described the character journey of Bickerdyke Elementary. His goal when hired was to create a physically and emotionally safe learning environment for all students with an emphasis on providing each student what they need individually. He knew he couldn't do it alone, so he provided more opportunities for teacher voice and leadership. Weekly meetings are held and a daily email is sent to keep all staff apprised of what is happening. The staff has the opportunity to serve on the General Education Intervention team and the Building Leadership team. Staff also meets bi-weekly in their Professional Leadership Communities and grade-level teachers meet once a week to plan and collaborate.
Student voice have been included in the process with the creation of a Student Leadership Team and with the administration of school climate surveys in the fall and spring. Parents are asked to give feedback through surveys, as well as during family engagement nights. Community members are invited twice a month to talk to students about careers and to build relationships.
You have done an excellent job bringing in your community with your 'Lunch and Learn'! What a great way for students to learn from those in your community and to make connections with real-world opportunities. Not only does this provide students with opportunities to learn about a variety of careers through the members of your community, but also helps them bring real-world practices into their school day. To level up even more with this program, ask students what careers they would like to learn about and invite those community members to your lunches. This will allow for student voice and choice!
Classroom meetings have created a fantastic opportunity to build trust and community within each classroom. They have improved both peer-to-peer and teacher/student connections and have provided opportunities for collaboration and emotional check-ins. The Zones of Regulation curriculum as well as the weekly Second Step SEL lessons has provided a structured framework to teach SECD skills and emotional intelligence. They have also provided opportunities for students to practice and model skills, as well as allowed teachers to get a feel for where students are. Teachers can now be proactive with interventions and support instead of reactive.
Bickerdyke has also put an emphasis on trauma-informed practices. Training has been provided to staff and resiliency coaching has provided the one-on-one support for individual teachers. This along with the academic MTSS structures has provided a comprehensive approach to individual student skill development and practice. It has also created a building culture of working together, compassion, and understanding. Students agree based on your survey data, they indicated that they feel they can count on staff.