EscWeb: Register and Enroll at SHESC with Ease and Convenience
The online events portal for SHESC - escWeb - means easier registration, alerts for classes relevant to your interests, and many more convenient benefits!
Creating an account on escWeb is quick and easy! After you create an account, the portal will remember your information when you register for an event or workshop, and it will track all of your professional development activities.
Important FAQ
- In order to see your SHESC membership discount you must create an account and log in to the account. Otherwise, you will see only the non-member rate.
- If you do not find your school district (under site) and school when registering for escWeb, try selecting "Out of Region" under "Organization" first before selecting "Other" for "Site" and "School."
A number of non-member districts are listed under "Out of Region," so your district and school may be listed under that organization category. Please see the screenshot below for an example.
- Pay close attention to the "Session ID" numbers. Identical workshop titles that appear on multiple dates, but that share the same ID number, are parts of a single multi-day workshop. Identical workshop titles on multiple dates that do not share the same ID number are different options of identical workshop content. Also, each workshop description will also list all dates you will be required to attend.

To create your escWeb account, follow these four simple steps:
1. Go to the escWeb registration website at go.smokyhill.org/register and click the "Sign In" button.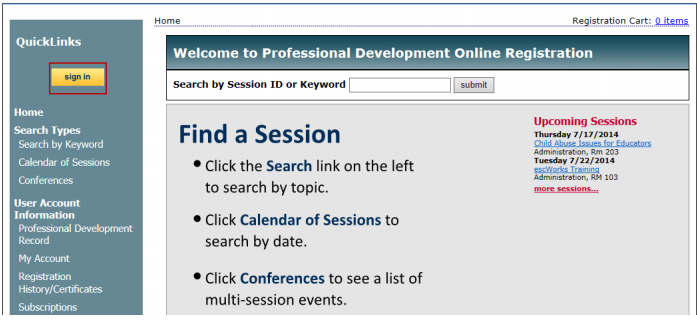 2. Click the link that says: "Click here to create a new account."

3. This will open the User Account - Sign Up page where you will enter your personal information to create a new account. Enter the information by typing in the boxes or by choosing the appropriate information from the drop-down menus.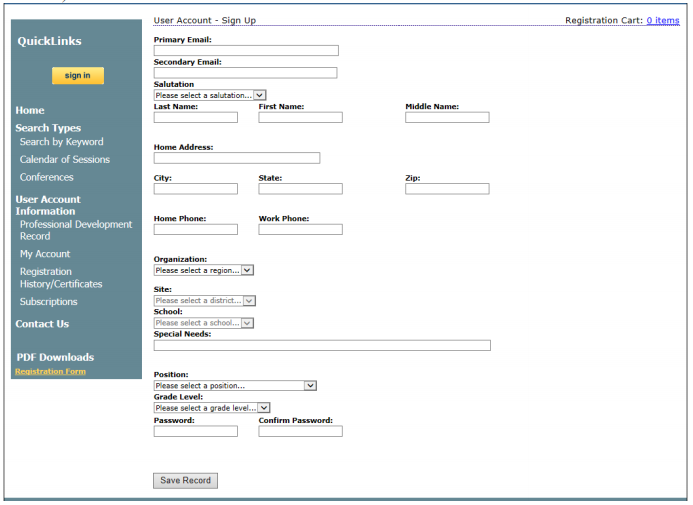 4. Click the "Save Record" button to create the account. Once the record has been created you will be logged in and taken back to the home page.
You can find additional "Help & How-to" documents to assist you with the most common tasks and questions on escWeb at www.escweb.net/ks_shesc/help.aspx
EscWeb Benefits
· Enter your information for the last time! After initial sign-up, escWeb will remember your details whenever registering.
· Search events and workshops by keyword! Find just the results that matter to you.
· We alert you! Never again miss the professional development you are looking for. Subscribe to receive emails whenever workshops in your chosen subjects become available. If anything changes with a class you have registered for, you will also get an alert.
· Find your records on your time! Print off your personal professional development record and completion certificates whenever is convenient.
· Get online! The platform makes it easier for you to attend (and for us to offer) online-based classes.
· Pay easily! Purchase orders, credit cards, or electronic checks can all be accepted online at registration.
· Do conferences the easy way! Register, pay, choose breakout sessions, and print your itinerary, all from one portal!
· Get the big picture! See all available events and discover new workshops in calendar view.