Website Redesign Guide
A New Look for SmokyHill.org
The Smoky Hill Education Service Center website received a brand-new look and updated features in May 2019! Additional maintenance will continue over the summer, with the process completed in August 2019.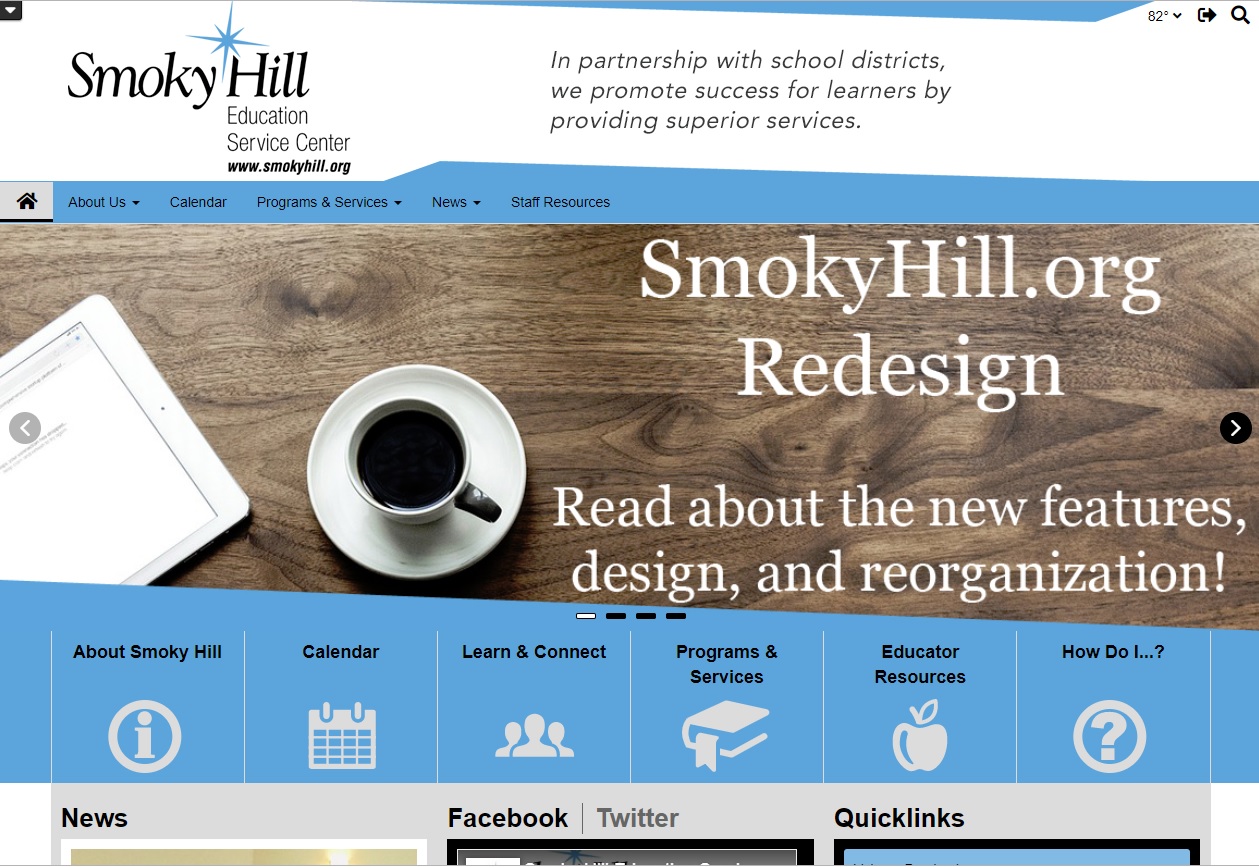 The changes are aesthetic – adjusting the template to new design specifications across SHESC publications and materials – but they also reorganize some areas of the site and add new features.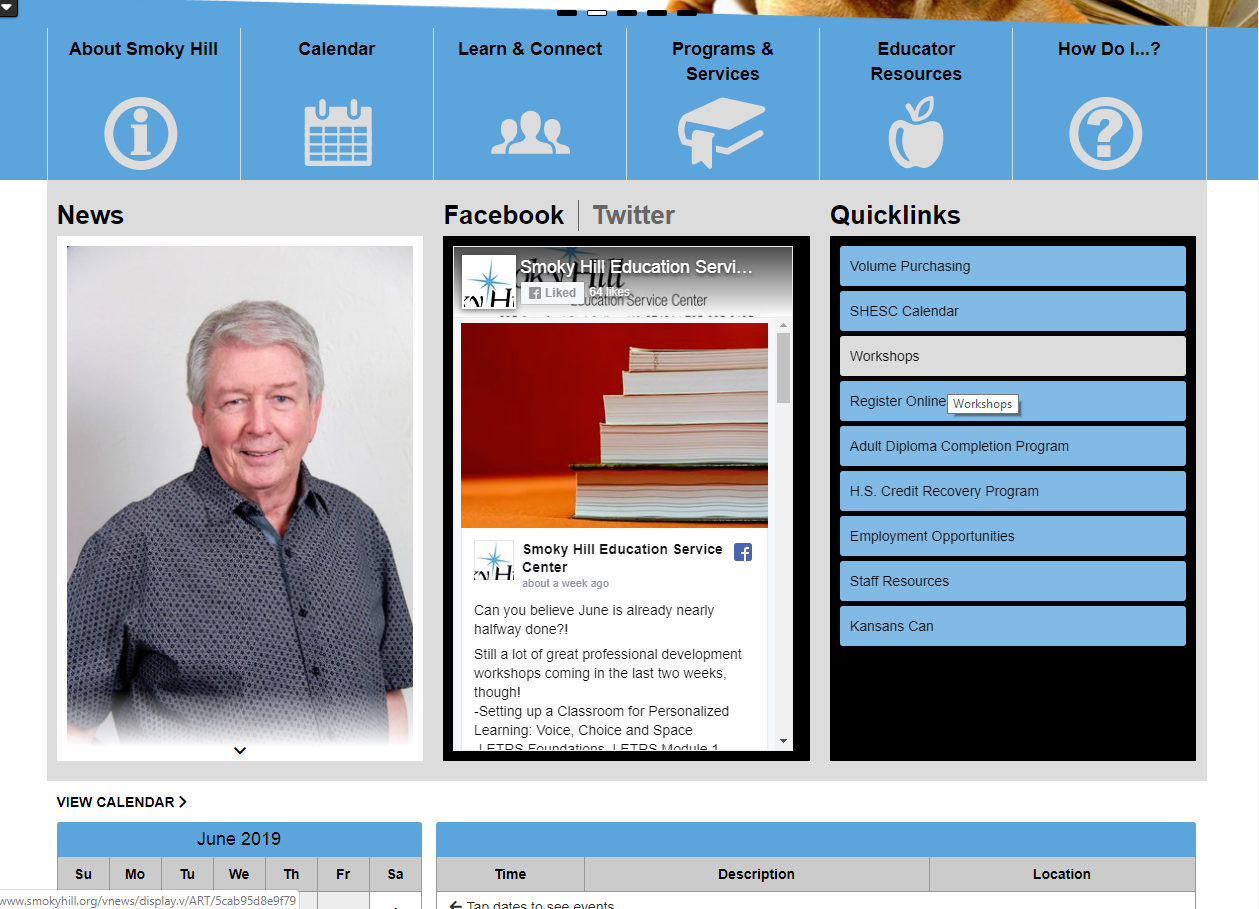 Most of the aesthetic changes and new features to the site have already been implemented!
Among the new features (top to bottom):
New Main Menu Functionality:

Now the main menu links at the top of the page will not just link to a new page, but you will also see a dropdown list of any sub-categories as you hover over each section link.

"Jumbotron" Images:

Just below the main menu at the top is a new "Jumbotron" feature. This allows a rotating slideshow of images. Look here for not only great pictures from recent events but also information about upcoming events, with links for more details.

"Jumbotron" Buttons:

Just underneath the new Jumbotron are six buttons that will link to "landing pages" in topic areas that have been carefully chosen based on what our website visitors actually look for and navigate to the most. The buttons are:

About Smoky Hill – Includes links to our history, organizational structure, directions to our locations, contact information, and employment opportunities. The location directions are now more detailed and include links to Google Maps, which can create directions that may be printed out or sent to a GPS-capable phone.

Learn & Connect – Leads to links for our workshop, webinar, conferences, and symposia informational pages; event and workshop registration form, and our monthly newsletter.

Calendar – Takes you directly to our master events calendar.

Programs & Services – Links to our wide array of available ways that SHESC can help save money and time (Including volume purchasing, our resource library, and many other programs and services).

Educator Resources – A NEW feature of SmokyHill.org, this page contains a carefully curated and organized list of more than 75 free or discounted resources for educators, including lesson plans, multimedia, assessment tools, classroom and school management tools, teaching games, and much more! This will be continually updated and expanded, so please send your suggestions for your favorite resources to info@smokyhill.org.
How Do I… - NEW feature with answers to some common questions at SHESC.

Social Media Feed & Links to New Social Media Presence:

A NEW feature that lets you read and interact with the latest Facebook posts and Tweets right from SmokyHill.org – all without needing to leave our site! There are also be new social media links to SHESC's NEW YouTube and Instagram accounts.

Monthly Newsletter Signup:

We now use Benchmark to send our monthly newsletter email. If you want to sign up directly to receive it, we have a new form that will automatically maintain your information in our contact list.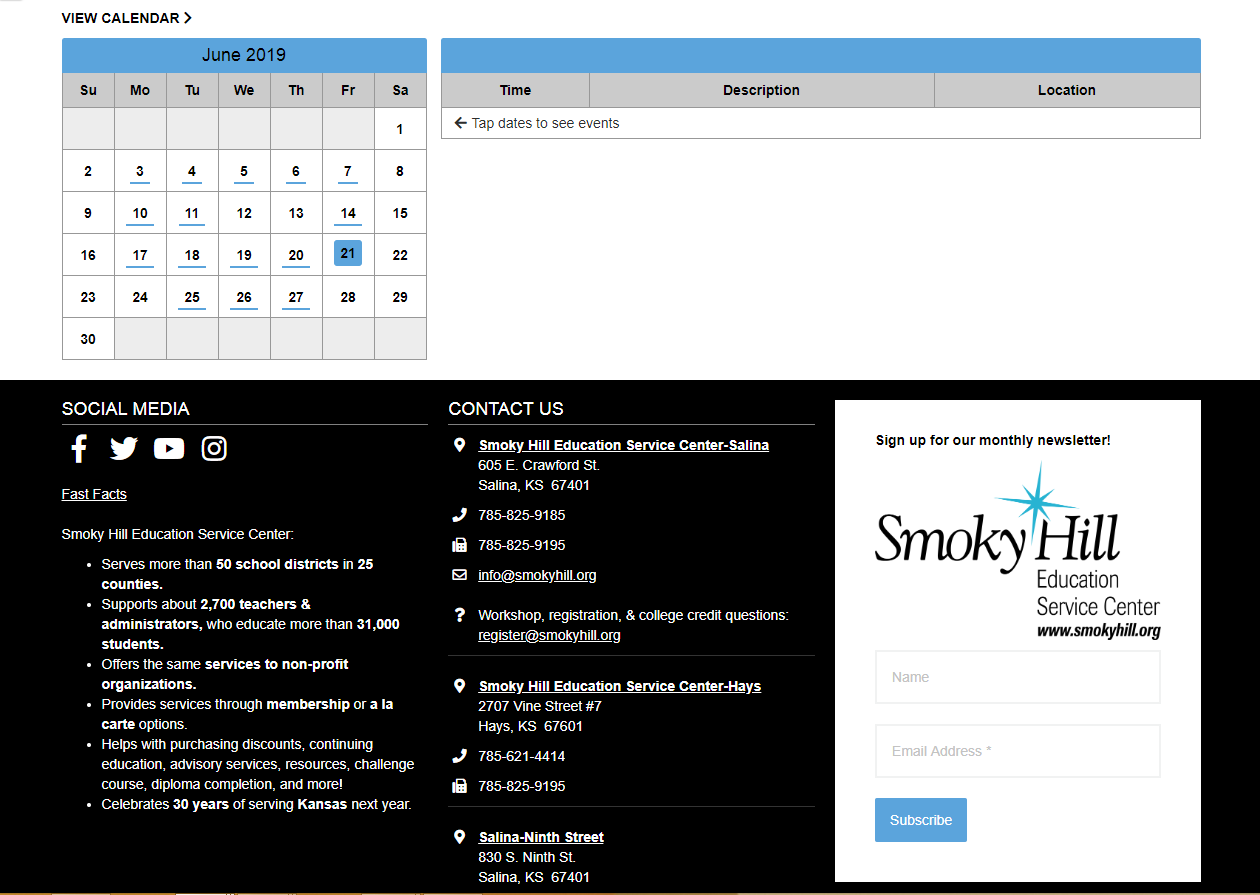 Some aspects of the site have also been moved, consolidated, or both to reduce clutter and improve organization:
The "Quicklinks" that were along the left hand side have been moved to the lower right of the page. These include direct links to Volume Purchasing, Calendar, Workshops, Online Registration, Employment Opportunities, and more.

For those who need to login to the site (to access course resources, for example) the link has moved from the left hand side above the Quicklinks to the upper right with an "Arrow pointing into a rectangle" icon. (See image below).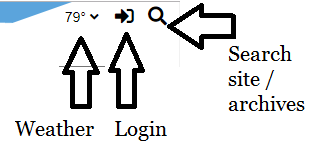 Local weather has been moved from the right hand side of the page under the menu links to the far upper right of the page.

The "search site" function is still in the upper right of the page but is now a simple magnifying glass (the "Archives" menu link has been removed as well and its functions folded into this icon link).
Additionally, there are now just six links for the top menu options. The previous long list of links have become sub-categories that appear when you hover over the main sections.
The six links are now:
Home page (icon)

– "Front page" is now replaced with a house / home icon that takes you back to the main SmokyHill.org webpage. You are also be able to return to the home page by clicking on the banner at the top of every webpage with the SHESC logo and mission statement.

About Us

– Contact Info and Employment Opportunities are now found here.

Calendar

– No change to where it links, but it has moved higher up in the menu.

Programs & Services

– In addition to the programs and services that appeared before when hovering over the link, this is the new location for links to "Adult Diploma Completion Program," "H.S. Credit Recovery Program," "Library," and "Technology Resources." We have also added a link to "Volume Purchasing" under this menu.

News

– The new menu name for linking to the monthly newsletter, and individual news items under "Member News," "Workshops," and "Webinars."

Staff Resources

– New name for "SHESC Staff Resources." It has also added new sub-menus for direct access to individual resources.
As mentioned previously, "Archives" is no longer a menu link, but the same functions are now available with the "Search" icon in the upper right.
Finally, we are working on a comprehensive review of all pages on SmokyHill.org for accuracy, current information, and fixing "dead" links. Please let us know at info@smokyhill.org if you encounter anything in these categories we need to fix. We plan to have this review done before August.
Thank you for your patience, and we hope you enjoy the new look and features!