KN95 Masks Available Through SHESC Volume Purchasing
SHESC is currently able to supply KN95 respirator masks while supplies last to educational, non-profit, and governmental organizations.
Click the image of the order form below to download a form-fillable pdf. Complete it and upload it (along with a purchase order) to the dropbox at the bottom of the page to send to vp@smokyhill.org and place your order!
Remember to also attach a completed purchase order for payment.
Questions? Please see the FAQ at the bottom of this page first.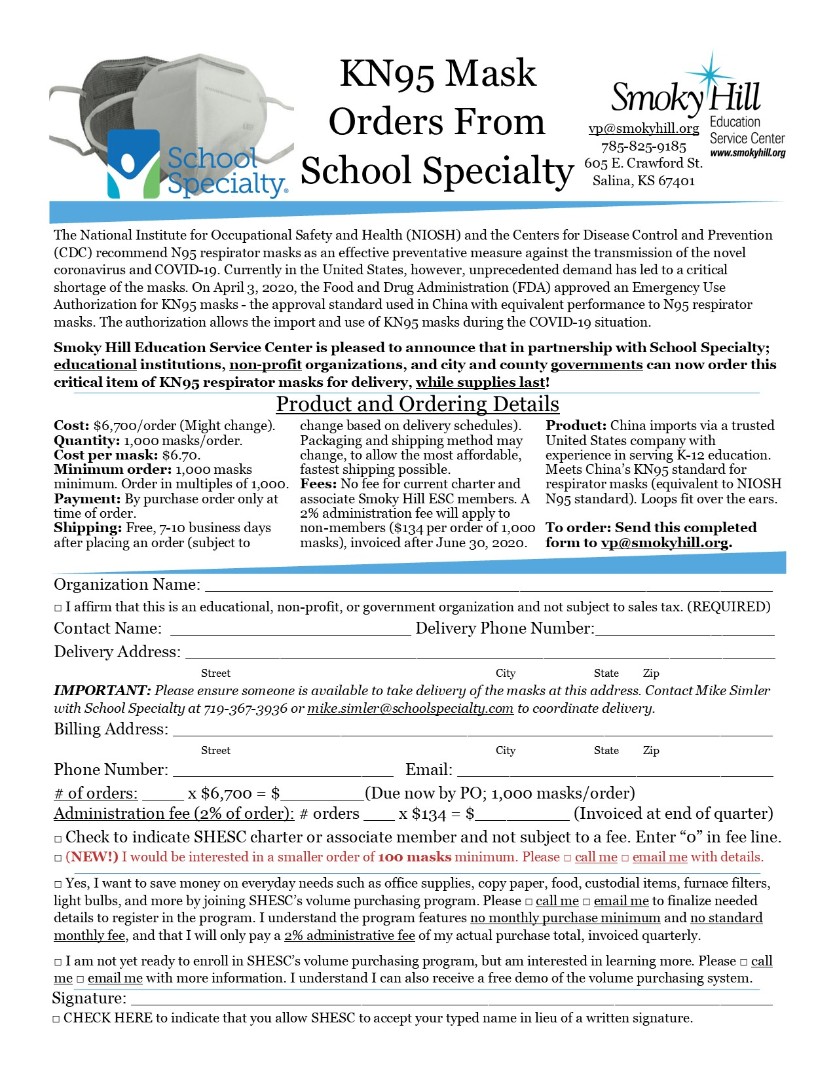 I am an individual. Can I buy these masks? No. Sorry, at this time we can only fulfill orders for educational, non-profit, or governmental organizations. We recommend that you make your supervisor or responsible individual at your eligible organization aware of the opportunity and direct them to vp@smokyhill.org so that we can help fulfill needs.
Can I buy an order of only a few packages? YES! SSI recently added KN95 masks to their regular catalog with a minimum order of just 20 masks. Contact Adam Pracht at apracht@smokyhill.org for details on how to access these options through the ESM online catalog. The cost is slightly higher and the wait time for delivery may be longer, but this is now a possibility.
I represent an eligible organization that needs these masks, but 1,000 masks is more than we'll use. What can I do? See the answer to the previous question on placing a small order.
Can I buy a few loose masks, not in a package? No. Sorry, but these are only available for purchase in a package of 20 masks at minimum. Opening packages and selling individual masks would be a health risk to you, because once a package is opened there is a risk of viral contamination. In addition, only selling a few masks out of a package could lead to reuse behavior not recommended by the CDC that can result in a higher "viral load" living on the masks. This creates a higher risk of COVID-19 infection.
Are you selling the masks in-person? No, all of our physical offices are currently closed to the public and we do not have any masks available for sale in-person. They are only available for sale by delivery.
How long does it take for the masks to be delivered? While it is subject to change as the situation develops and delivery schedules adjust, you can generally expect delivery 7-10 business days after placing an order. We cannot guarantee an exact date for fulfillment.
I represent a for-profit organization or business. Can I place an order? No, we can only fill orders for educational, non-profit, or governmental organizations.
Are these N95 masks? No, N95 is the U.S. standard, set by and evaluated by NIOSH. These are KN95 masks, the Chinese standard with an equivalent performance to N95 masks.
Where are these KN95 masks from? They are imported from China by a reputable U.S. company with experience serving K-12 schools.
If they are not approved by NIOSH, how can they be sold in the U.S. as medical-grade personal protective equipment? The current COVID-19 situation has created an unprecedented demand for N95 masks in the United States, making them all but impossible to find. To help alleviate the situation, on April 3 the FDA approved an Emergency Use Authorization for import and use of KN95 masks from China for the same intended use as N95 masks. (See the FDA's FAQ page on this topic HERE.)
Can children use these masks? The packaging indicates that the masks are not intended for use by children.
How do I pay? For a large order of 1,000 masks, payment is by purchase order only. Please include a copy of your purchase order along with the order form. You will also receive an invoice for 2% of the purchase price after the end of the current quarter, if you are not an SHESC member.
For orders through ESM for 20-mask packages, you may pay by credit card or purchase order, but we will need to enter you into the ESM online ordering system as a user first. Contact Adam Pracht at apracht@smokyhill.org to complete this process.
Why do I have to pay a 2% administrative fee if our organization is not an SHESC member? We are selling these masks at the same cost our supplier is charging, as a service to our members. The 2% fee covers our internal costs of taking orders, processing them, and providing customer service to any organizations that place orders and are not part of our service center membership.
What if my question is not listed here? Please contact Adam Pracht, Volume Purchasing Coordinator, at vp@smokyhill.org.