"SHESC Messenger": End of November 2021

End of November 2021
---
---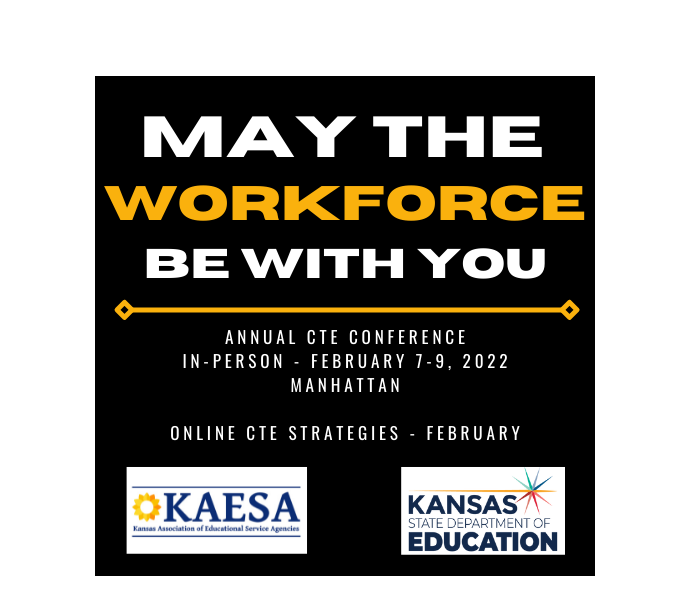 Registration Open for the 'May the Workforce Be With You' CTE Conference
The annual CTE Conference from the Kansas Association of Educational Service Agencies (KAESA) will have two valuable options next February, with a "Star Wars" spin on its theme:
In-Person Conference (February 7 - 9 in Manhattan): Kansas needs to connect education and our local workforce. The demand is imperative. What can schools do to help? How can teachers prepare students for Kansas jobs? Let's gather, discuss, and learn!

Online Conference (February): Looking for new ideas from excellent Kansas educators? Register individually or as a district for access to recorded presentations highlighting new ideas and great work! Offered as of February 7, but available for a year of learning.
Registration Information - now open at www.kaesa.org/cte-conference.
Early-bird deadline - January 17, 2022

Regular deadline - After January 17, 2022

$200 - In-person and virtual

Virtual only - February 7, 2022

$150 - Individual

$500 - District

Presenters receive a 50% discount - two per session
Featured Professional Development: 'Book Study - The Burnout Cure'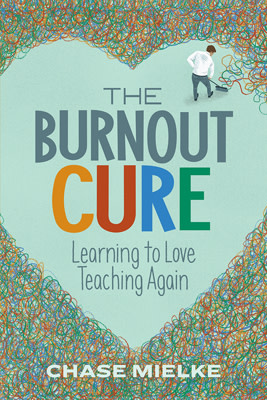 Thanksgiving is a great reminder to live with gratitude and empathy.
The SHESC online book study on "The Burnout Cure: Learning to Love Teaching Again" by Chase Mielke is a great opportunity to help you with specific, immediate and research grounded actions that can be taken to enhance well-being. Mielke draws on his own research, lesson plans, and experiences with burnout to help you change your outlook; strengthen your determination to be a terrific teacher; and reignite your core passion for teaching.
Book objectives:
Understand how shifts in awareness, attitudes, and actions can be transformational

Learn steps related to mindfulness, empathy, gratitude, and altruism

Learn examples of classroom lessons and activities for students
Register HERE to join us on Zoom November 16, November 30, and December 14.
Introducing: 'Volume Purchasing Partner Members'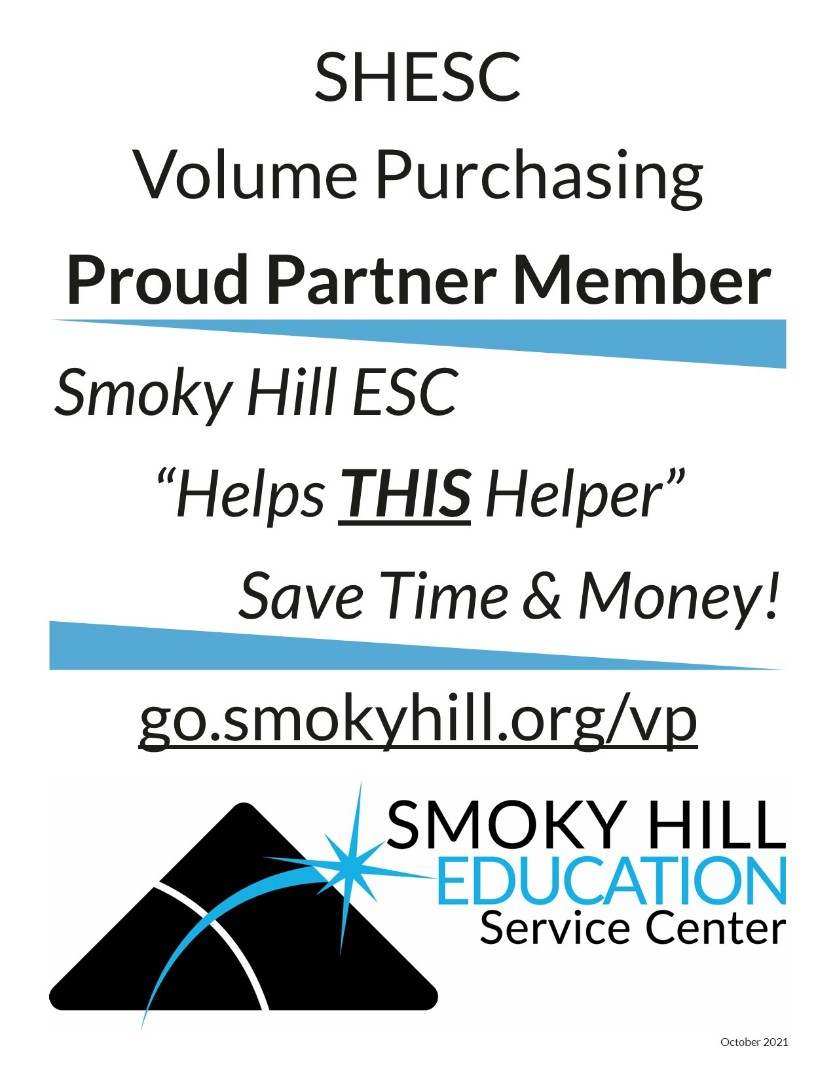 If you participate in SHESC's Volume Purchasing Program, we are pleased to invite you to a new opportunity!
"Volume Purchasing Partner Members" is a free program to encourage mutual promotion between SHESC and those we serve. Contact Adam Pracht at vp@smokyhill.org or 785-825-9185 for full details and to sign up!
Benefits include:
•Your organization on a large "Thank You" poster in both our Salina and Hays offices.
•Inclusion of your organization on a "Thank You" partners page on our website.
•Providing your flyers in the lobbies of our Salina and Hays locations.
•Once annually, posting your event, service, or other promotion to our primary social media channels.
You can also call 785-825-9185 and ask for Adam Pracht to learn more about the partner program.
(Pictured: One of the door signs that Volume Purchasing Partner Members will be asked to put at an entrance as part of the program.)
Volume Purchasing: Cleaner, Healthier Air with High-Quality Furnace Filters
The winter months mean more time inside with recirculated air, which means it is the perfect time to change your furnace filter and consider upgrading it to a MERV 13.
Josh Brandl, Sales Engineer with The Filter Shop - SHESC's primary filter provider, said that while MERV 8 rated filters can screen out airborne particles such as mold, dust lint, pollen and dust mites, MERV 13 can remove particles up to a tenth the size, including bacteria, auto exhaust fumes, and "sneeze nuclei" - which is a major carrier of the virus that causes COVID-19. In areas where the HVAC system does not circulate the air well, Brandl recommends using a standalone air purifier.
More than 200 MERV 8 and MERV 13 filters are available from The Filter Shop through SHESC Volume Purchasing.
As an added bonus, Brandl shared plans for a "do it yourself" standalone room air purifier HERE that's called a Corsi Air Box (using four 20 x 20 x 2" MERV 13 filters, a box fan, cardboard, and duct tape), that will cost about $95 each with filters from The Filter Shop and a box fan from School Specialty and is about as effective as retail units that cost seven times as much. As an added bonus, teachers can use the plans as a STEM-focused classroom project!
To learn more about purchasing filters and fans, contact Adam Pracht, Volume Purchasing Coordinator, at vp@smokyhill.org.
'Turkey Talk' Classroom Lesson Ideas
Fall break is quickly approaching, so it's a great excuse to share some fun facts and lesson ideas on the most popular Thanksgiving Day dish - turkey!
At the first Thanksgiving, turkey wasn't even a menu item! However, venison, duck, goose, lobsters, fish, and even eel were more likely served.
For Family and Consumer Sciences (FACS) class, consider making an actual "traditional" Thanksgiving meal that ditches the turkey (and also the pumpkin pie and the cranberry sauce... but not the cranberries!) with some surprising main dishes!
The tradition of U.S. Presidents "pardoning" a turkey for Thanksgiving became formalized much later than many people think. Many people think that it started with Harry Truman, but he originated only half of the tradition. While Truman received a ceremonial turkey from the National Turkey Federation, it ended up on his dinner table instead of being pardoned!
John F. Kennedy was the first to actually give the turkey a pardon, as did Richard Nixon - who gave it a new home at a petting zoo. George H.W. Bush formalized the pardoning tradition in 1989.
For history class, have students research the history of Presidential pardons - both of turkeys for fun, and of the serious constitutionally defined power of the President.
Four U.S. towns are named "Turkey" - located in Arizona, Texas, Louisiana, and North Carolina.
See if your students can find them on a map for geography class and see whether they can discover the history behind the unusual name choice for each of these.
On Thanksgiving, the average American consumes 4,500 calories!
For health class, have students consider: How much of that can be attributed to just the turkey? How does that calorie count compare to a healthy diet? Can they think of ways to make the Thanksgiving meal healthier?
The Butterball "Turkey Talk" Line fields more than 100,000 calls every year at 1-800-288-8372 and has been available for more than 30 years. Among the most common questions: "How do I determine the size of turkey to buy?" (There's a calculator) and "What are giblets?" (The heart, liver and gizzard of the turkey.)
What question would your students have of the Turkey Talk Line? Have them call and learn the answer.
Every year, the American Farm Bureau holds an informal Thanksgiving Day dinner cost survey, determining the average cost of a Thanksgiving Dinner for 10 people. The "index" has been tracked for more than 35 years and provides a fun way to look at the status of the economy. (HERE was last year's survey results, which had the lowest cost in a decade).
For economics or personal finance class, challenge students to reproduce this survey locally with a trip to the grocery store!
While we're talking Thanksgiving, here is also a friendly reminder that SHESC offices will be closed on Thursday, November 25, and Friday, November 26.