"SHESC Messenger": End of February 2022

End of February 2022
---
---
Professional Development: Two New Workshops on Work-Based Learning and Healthy Relationships for Athletes
Join us for these fantastic new professional development opportunities coming in March!
"Developing a Work-Based Learning Model" will be available on March 8 via Zoom. Join Pam Kraus in learning how to develop a comprehensive model for work-based learning from kindergarten through 12th grade. Discover there are many ways to incorporate work-based learning besides internships. You will hear from other districts that have implemented successful work-based learning programs, as well as receive information about the necessary documentation required, how to develop relationships in the community to provide work-based learning resources for your students, and more!
"Coaching Athletes in Healthy Relationships" will be offered on March 8 in Hays or March 10 in Salina. Learn from Noalee McDonald-Augustine about programs to help student-athletes develop healthy relationships. Coaching Boys Into Men (CBIM) is a national program that trains athletic coaches to use their influence to help high school male student-athletes to build healthy relationships and prevent sexual and dating violence. Athletes As Leaders (AAL) is a similar program for high school athletes on girls' sports teams. Over the course of an athletic season, CBIM and AAL coaches lead their players through brief weekly activities that address topics such as personal responsibility, respectful behaviors, and relationship abuse, with the focus of encouraging athletes to be leaders in changing peer norms and school climate to a culture of safety and respect. Both curricula will be presented, and participants will get an opportunity to see how one or both programs could be used with the teams they coach.
Volume Purchasing: New Catalogs Available, More Coming Soon
The catalogs with new pricing on lumber and cafeteria supplies are already available (click on the hyperlinks to download a PDF catalog), and five more catalogs will be available soon. Updated custodial supplies will renew on February 21, while copy paper, card stock, light bulbs and lighting, and furnace filters are set for updates on March 1.
For more information about volume purchasing, contact Adam Pracht, Volume Purchasing Coordinator, at vp@smokyhill.org or 785-825-9185.
Register Today for Safari Edventure in April
We're going to the zoo; how about you?!
Join Smoky Hill Education Service Center and Rolling Hills Zoo for a unique education event this spring - Safari Edventure 2022!
Venture through the zoo and participate in hands-on workshop stations focused on science, animal conservation, environmental issues, social studies, culture, and more!
Options for day-long Safari Edventure will be available April 4-8 and April 11-15. School staff members will have the opportunity to pick a date that works best for them, as well as a workshop station time in the morning or afternoon.
Workshop-station times will run either 9:00 - 11:00 a.m. or 11:30 a.m. - 1:30 p.m., depending which time slot school staff choose. Students will have the opportunity to visit the Rolling Hills Zoo and Museum before or after the scheduled workshop time, whichever the school staff would prefer.
This event is focused on kindergarten through 6th grade. Cost is $7 per person, which includes students, staff, and parents. The fee includes admission to the Rolling Hills Zoo and Museum.
Days and time slots are booked on a first-come, first-serve basis. Contact Jaye Ditter at jditter@smokyhill.org to book your school's Safari Edventure Day!
link.smokyhill.org/SafariEdventure2022
Smoky Hill Adventure Program Builds Teamwork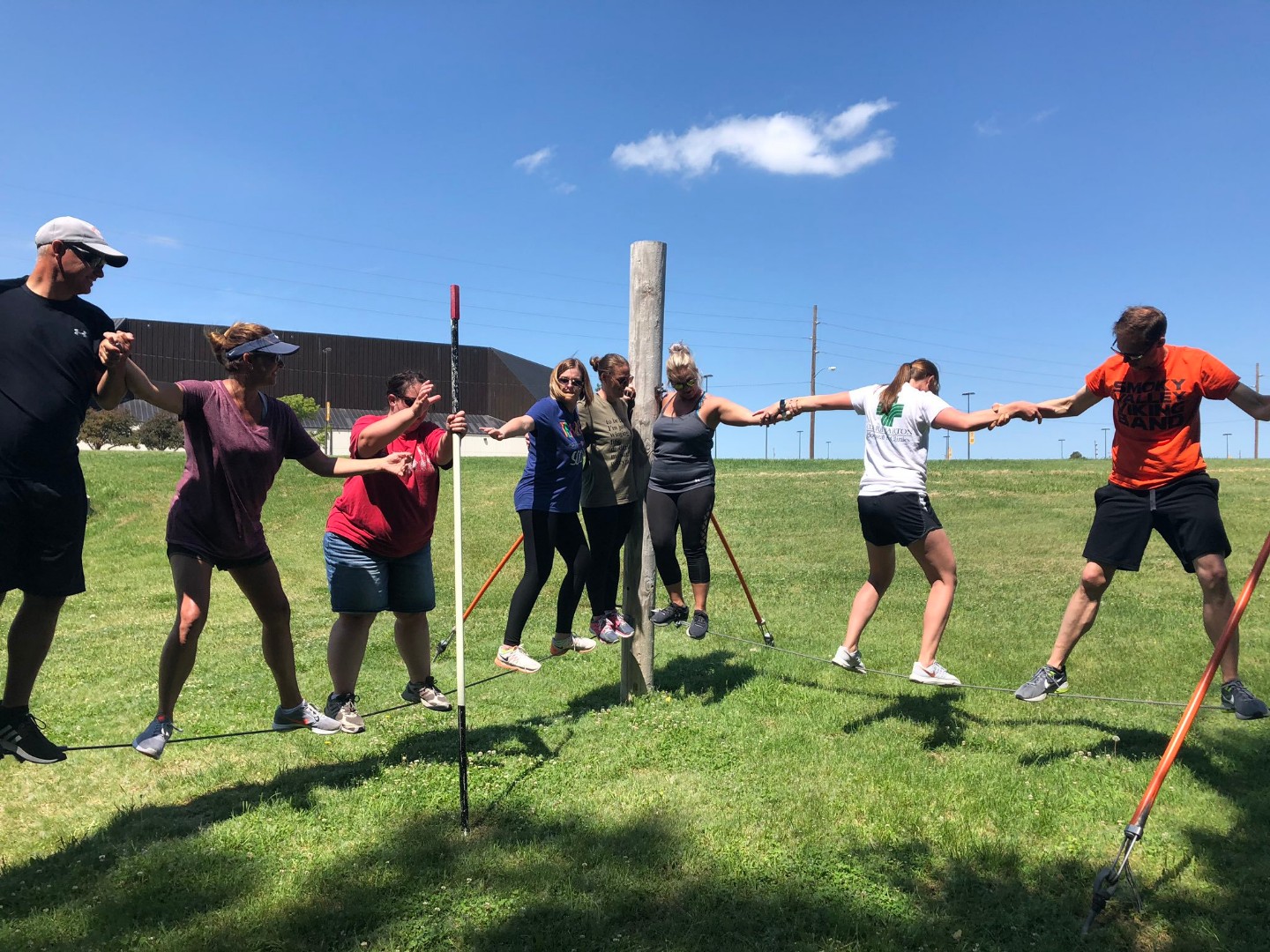 If you long to be outside, prefer to be physically active, or are looking for an activity that's adventurous, exciting, and educational, we have just the opportunity for you, your staff, and your students!
The Smoky Hill Adventure Program is an adventure education service dedicated to personal and professional growth and development through experiential learning (experience, reflection, generalization and application).
The elements and initiatives require a combination of teamwork skills, individual commitment, problem solving, goal-setting, and emotional risk-taking. Our program has a high and low ropes course located on the Fort Hays State University campus, as well as portable adventure equipment that can be brought to your school.
The low elements are best for working on teambuilding, cooperation, communication skills, problem-solving and perseverance. The high elements are best for smaller groups that want to focus on goal-setting, growth mindset, perseverance, overcoming fears, support systems, and positive risk-taking. If you can't travel, but still want an in-person teambuilding experience, then portable equipment, games, and initiatives can be brought to your site for an On-Site Adventure Program.
The high and low ropes courses are available for 5th through 12th grade students, as well as staff, sports teams, youth groups, community groups, and corporate groups. The portable equipment program can be designed for all age levels and groups. Both the ropes course and the portable program have accessible elements for individuals with disabilities.
Every program is designed around the following character traits: Responsibility, Respect, Trust & Commitment, Caring, and Encouragement. Specific programs can also be designed for at-risk youth, leadership groups, and special education classes.
Spring dates are filling up, so sign up today. For more information on the Smoky Hill Adventure Program, contact Noalee McDonald-Augustine at 785-621-4414 or nmcdonald@smokyhill.org.